Freight management app allows you to manage freight operations like FCL and LCL shipments with FTL and LTL etc.
Freight Management
This module allows you to manage all freight operations (Air, Ocean, and Land). For ocean it allows you to manage both FCL and LCL shipments and for land it allows you to manage both FTL and LTL, it is a comprehensive platform that gives you the chance to manage all aspects of your freight forwarding operations.
---
Key Features:
Direct Shipping
Custom Clearance
Track order
---
*Feature - 1 : Direct Shipping Descriptions:*
User manage international as well as domestic shipping orders.
Shipping orders are created for both import and export
Transport of shipping can also be done by Air, Water and Land
Shipping order status updated from time to time on stages completed.
Confirmed orders are received through the landing Port and delivered to the discharging point.
Shipping order charges are calculated as per container volume and weight on the freight order line.
FLOW CHART : DIRECT SHIPPING
Usability:
Go to -> Freight management -> Direct Shipping.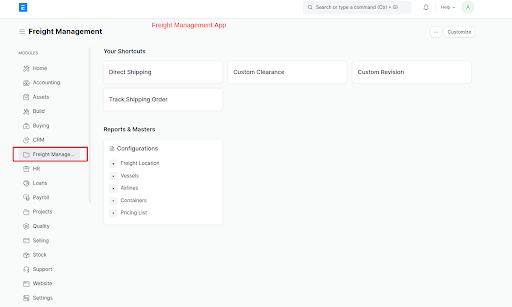 User creates Direct Shipping record with selection direction import/export.
*User adds an product order line for the shipping order.*
Shipping order approve, reject and Pending status updated by the user.
Users can update the status of Shipping order after order has been received by the customer..
---
Feature -2 : Custom Clearance
Descriptions:
International shipping orders custom clearance record managed.
Custom clearance stages are updated as done.
Record revisions of custom clearance
FLOW CHART: Custom Clearance
Usability: User creates a custom clearance record.
User approves the custom clearance record.
Custom clearance done on first approval.
In case of revision, custom clearance revision should be approved.
---
Feature-3 : Track shipping order.
Descriptions:
Customer can track the shipping order through the shipping order number.
User view details of source location, destination location and routes of the shipping through this feature.
*Usability:*
* * Go to -> Track shipping order. * * Select the direct shipping order to review source and destination locations.
Direct Shipping Report.